Sulkhani Otkhozoria, Middle QA Engineer
Sulkhani Otkhozoria, Middle QA Engineer at Exactpro, will share the unusual circumstances of joining the team, the multiple roles he's held so far, as well as what excites him most about being in quality assurance.
– I started working at Exactpro in May 2020 – one of the most challenging times for everyone, as the COVID-19 pandemic started to spread all over the world. Exactpro continued to add more and more members to the huge team of professionals even during those challenging times. And guess what? I was one of them.
Before Exactpro, I was studying at Georgian Technical University, I am now a bachelor of Informatics and Control Systems. And as a side activity, I was organising pop-culture-related events.
As a newcomer, I started my career as a junior software tester. Thanks to the people on my team, I managed to advance relatively quickly and learn a lot about software testing and development in general. I currently have a Middle QA position, but I have had to wear multiple hats, as I have been a part of multiple projects. The most challenging one was training newcomers and acting as a mentor for them. But as challenging as it was, it gave me a lot of knowledge and, most importantly, I learned how to communicate with people in an effective way.
Every project that I was involved in used cloud technology, so I had to learn the basics of AWS, which helped me better understand the services that our clients were using. At the same time, I always enjoyed JavaScript, so I continued improving my skills. I am actively working on learning UI Automation using JavaScript and Frameworks like Playwright and Cypress.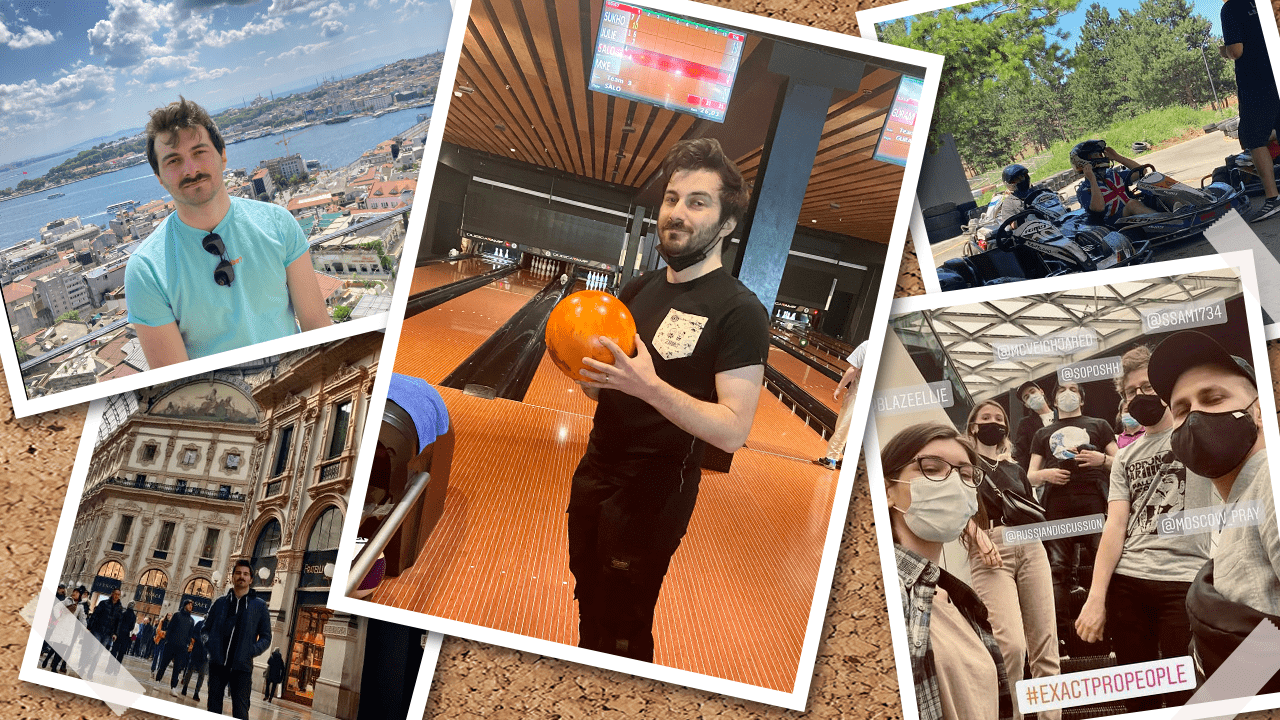 Currently, I am working at the Global Exchanges division, helping to test an exchange platform that uses the latest cutting-edge technologies available on the market. My job is to analyse the requirements and cover them with test cases, as well as maintain software quality by reporting and retesting bugs. I had an opportunity to work on Exactpro's new testing tool called th2 which was developed in-house and is quite powerful in identifying the bugs in the system easily and effectively.
Well, to put it simply, I like finding defects in the system, it sparks joy in me when I find a defect, as I know I am contributing to the project and making it better for the end user. I like that this job gives me the opportunity to learn more and more every single day about the new technologies and industries that I might have never interacted with on my own.
Sometimes our job can be quite stressful like many other jobs are but that's why it's important to make the best of your free time. I usually go bowling with my friends, airsoft and karting are two more things that we do as well; the cinema is a place that I visit quite frequently, and you will probably catch me there during weekends.
As for my plans for the near future, I will be focusing on Web UI Automation and then move to the mobile one. As for the long-term plans, I'm going to improve my QA skills even further and maybe even try to pass the ISTQB certification for Test Analyst, as I already have a Foundation Level certificate.