Dilyaver Kaibulaev, DevOps Engineer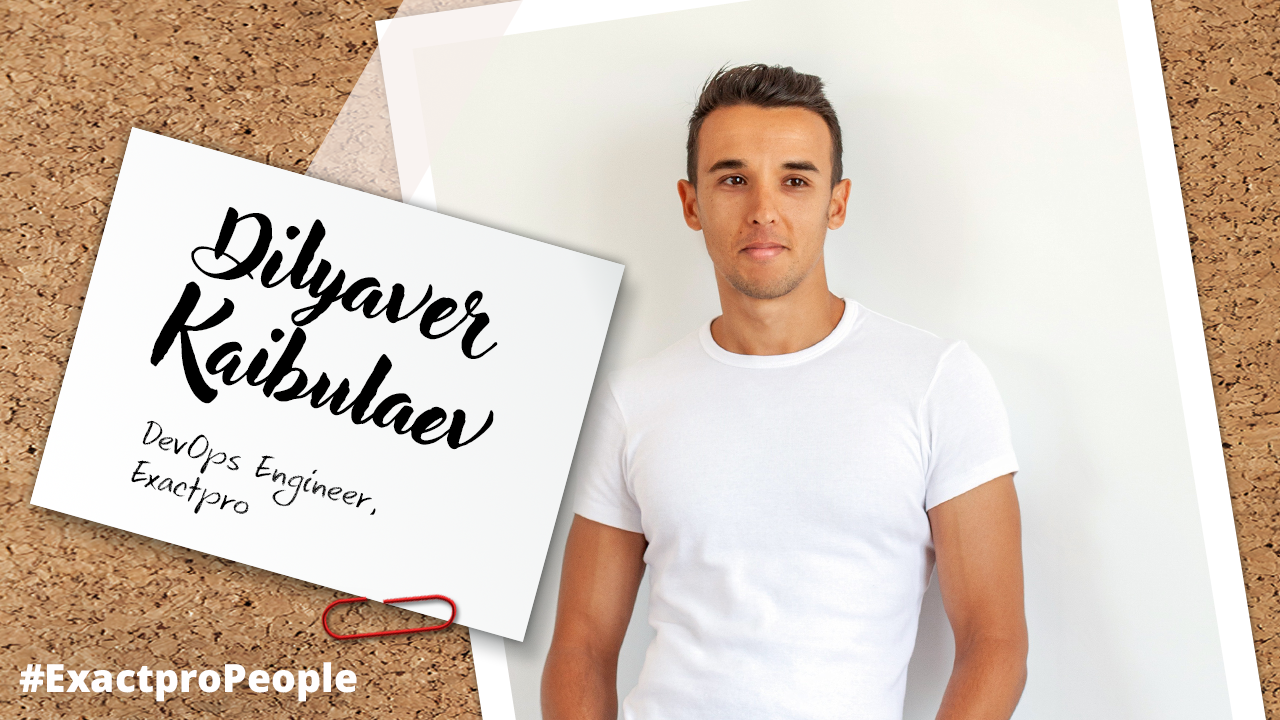 Dilyaver Kaibulaev, DevOps Engineer at Exactpro, shares the story of his professional accomplishments, current roles and responsibilities at the company, the challenges he gets to take on, and the aspects he finds particularly satisfying about his day-to-day tasks.
– I joined Exactpro in 2020, following the pandemic. Prior to that, I worked at a technology department of a broadcasting company, where I was involved in support and administration. Additionally, I had the opportunity to participate in the production process and broadcast planning.
I began my journey as a QA specialist in the Non-functional Testing (NFT) Team on a project specialising in Market Data testing. After some time, I noticed that the company was actively seeking DevOps engineers for the th2 project. I approached my manager expressing my interest in transitioning to the th2 project. Given my background and the experience I had gained in the NFT team, I believed I could make a swift and valuable shift to the new role. Recently, my new manager asked me if I would like to transition to a different project because the company requires my expertise there. I agreed to the opportunity because it offers a chance to learn something new and work with a different technology stack. Switching teams also provides the benefit of meeting new people and enhancing my soft skills.
In my current role, I serve as the lead of a small DevOps team. Each day, we focus on enhancing the CI/CD (Continuous Integration/Continuous Deployment) process and addressing urgent issues in both the test and the production environments. It's an exciting yet occasionally stressful job. I consider it one of the most challenging roles because you need to be readily available to troubleshoot issues wherever they may arise. When things aren't working as expected, people turn to the DevOps team for assistance. Nevertheless, I genuinely enjoy solving problems, and there's a unique sense of satisfaction when I successfully establish the right connections or see all the pipelines running smoothly with green statuses.
On my days off – especially since relocating to Georgia – I've been eager to explore new places and immerse myself in the local culture, all while making new friends😄 I'm genuinely pleased to be a part of Exactpro, and I thoroughly enjoy attending Exactpro events such as Movie Nights, board games, and special team-building activities. Gaming is another one of my passions, and I'm eagerly anticipating the release of Rockstar games or something like that. I try to maintain a healthy lifestyle by incorporating regular exercise into my routine, but I'll admit that there are days when I find myself spending the entire day in bed, watching Netflix, and being surrounded by heaps of chips.
I'm committed to further enhancing my technical and social skills while at Exactpro because I believe there's ample room for personal growth. The company offers a wealth of opportunities and resources for learning, and it actively encourages employees to pursue their ambitions and contribute as valuable members of the organisation.