Kapila Karunaratne, Head of Delivery – Testing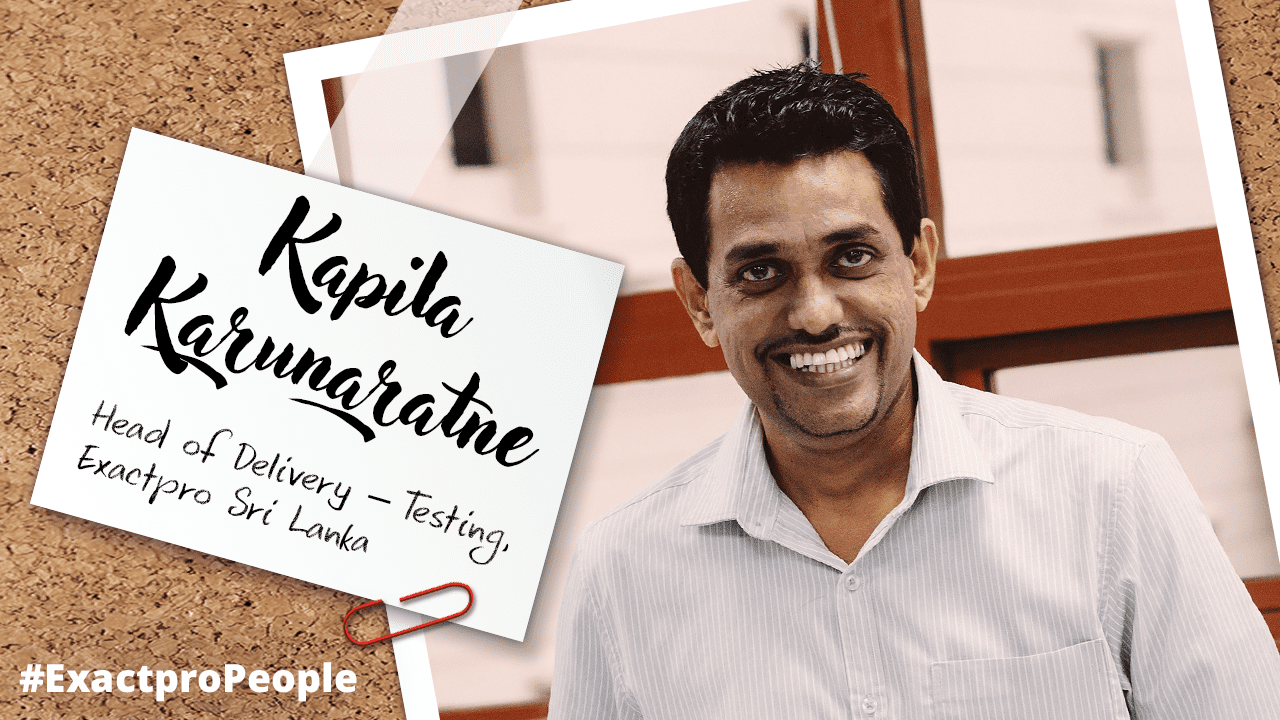 Today, Kapila Karunaratne, Head of Delivery – Testing, Exactpro Sri Lanka, will talk about his vast experience in QA and numerous contributions to the life of the QA community in the region, as well as his current role.
Having graduated from the Faculty of Engineering of the University of Peradeniya, Sri Lanka, and the University of Wolverhampton, UK, I have over 18 years of experience in software quality assurance, delivery and client services management. I have been managing large-scale complex testing engagements of mission critical capital market and banking applications for clients across North America, Europe and Asia for the last 12 years before joining Exactpro. Recently, I have also received a specialisation in Finance Technology (Fintech) Innovations from the University of Michigan.
I have joined Exactpro Sri Lanka as Head of Delivery – Testing, and my role here focuses on multiple areas. Primarily, I am supporting our very own Jagath De Silva, CEO of Exactpro Sri Lanka, and the global leadership to set up and operate the Exactpro office in Colombo and drive accelerated hiring initiatives for recruiting laterals as well as freshers.
We have by now managed to onboard the best set of capital markets testing specialists from the limited available candidates in Colombo. Within the last few months, we have been able to reach many key universities in Sri Lanka, sign MOUs, participate in industry days and get invited to conduct many courses related to the latest industry trends in software testing. Moving forward, we are planning to execute several strategic delivery projects for global and local fintech clients at the Exactpro office in Colombo.
In my previous role, I was lucky to work with a team that was building a layered architecture for one of the industry's most used functional testing tools, and I managed a globalisation testing drive for nine major locales with the client testing team situated in 9 geographies. I also led multiple testing teams for complex mission-critical exchanges, post trade, smart order routing and surveillance systems which were deployed in 20+ stock exchanges across the world and certified many digital banking platforms for the functional and non-functional aspects of testing.
I am also passionate about building and grooming high-performance teams and fostering leadership, especially in the so-called "turbulent" situations. In addition to that, I have been contributing to Sri Lanka's major universities – University of Colombo, NSBM Green University, SLIIT and others – in terms of the building software testing curriculum and sharing industry experiences on testing for many years, for both undergraduates and postgraduates.
I was born and spent my childhood in a small town called Matugama, which is 60km away from Colombo. Then, for the rest of my school studies, I lived in Peradeniya, the gateway city to the central highlands of Sri Lanka. And now, I have settled in Colombo with my loving wife, daughter and son. In my free time, I like to travel and explore marvellous and unique surroundings in Sri Lanka, and have travelled to many adventurous places already. I also love cycling almost every weekend with my wife and children. Reading, listening to music and watching movies are my other hobbies.
I am very proud of joining Exactpro, and it has given me a chance to become a part of a great diversified global team that is specialised in building software for testing software for capital markets and fintech domains. I truly believe Exactpro will bring a great software testing innovation culture to Sri Lanka with its unique combination of Processes, Platforms and People to serve our global and local clients.